the wristband specialists
Call: 01482 804514
info@wristies.co.uk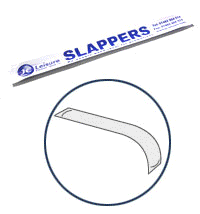 Slapper Wristbands
Slapper wristbands are the proven solution for customers wanting a highly visible promotional item where security is not their main concern.

Used mainly to promote events, brands and venues they are also commonly used for fund raising initiatives and campaign awareness.

Slapper wristbands are easily applied when lightly slapped around the wrist, arm or ankle and then allowing the band to wrap around on itself for a comfortable fit.

Available in a range of colours and finishes they can be custom printed with your own design, logo or message to your specific requirements.

Fast and simple to apply Slappers are often an eye catching talking point as well as a visible keepsake after the event has finished.
To order Slapper wristbands view our How to order page or
Call one of our sales team on 01482 804514.
&nbsp
Click on the images below to view our Slapper wristband range: