the wristband specialists
Call: 01482 804514
info@wristies.co.uk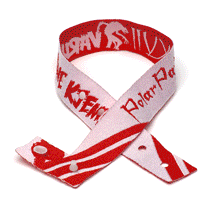 Fabric Wristbands
Fabric wristbands are the proven solution for customers wanting high level security and anti - counterfeiting wristbands.

Made from high quality polyester our security fabric wristbands can be screen printed or your design woven into the band making them virtually impossible to copy.

Available as a single use security fabric wristband or reusable fabric wristband they can be pantone matched to any colour of your choice and printed or woven to your specific requirements.

Often kept as a fashion item or an event momento fabric wristbands are a desirable, eye-catching and durable alternative for multi-day events and rugged environments.
To order Fabric wristbands view our How to order page or
Call one of our sales team on 01482 804514.
&nbsp
Click on the images below to view our Fabric wristband range: