the wristband specialists
Call: 01482 804514
info@wristies.co.uk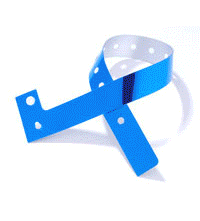 Plastic Wristbands
Plastic wristbands are made from a strong, flexible, tear & stretch resistant laminate material offering a comfortable yet lightweight option ideal for extended wear.

All plastic wristbands can be adjusted to fit any size of wrist and is secured using a robust single use snap lock closure preventing transfer as the wristband cannot be removed without being cut or breaking the snap preventing reuse.

Our plastic wristbands are available printed or plain in various styles that offer a more durable and secure solution for multi-day events.


To order Plastic wristbands view our How to order page or
Call one of our sales team on 01482 804514.
&nbsp
Click on the images below to view our Plastic wristband range: