the wristband specialists
Call: 01482 804514
info@wristies.co.uk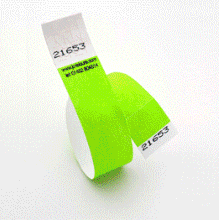 Tyvek Wristbands
Our most popular and economic wristband, this product is waterproof and tear/stretch resistant with a tamper evident seal which prevents reuse or transfer.
Tyvek wristbands are easily applied and fully adjustable for both adults and children and provide comfort and durability for all day activities.
Our Tyvek wristbands are available printed or plain in a range of vibrant colours and styles and can also be custom printed with your logo, slogan or brand message to your individual requirements.
All wristbands are sequentially numbered and come with or without a tear off redemption stub at no extra cost.
&nbsp
To order Tyvek wristbands view our How to order page or
Call one of our sales team on 01482 804514.
&nbsp
Click on the images below to view our Tyvek wristband range
&nbsp