the wristband specialists
Call: 01482 804514
info@wristies.co.uk

Reflective Slapper Wristbands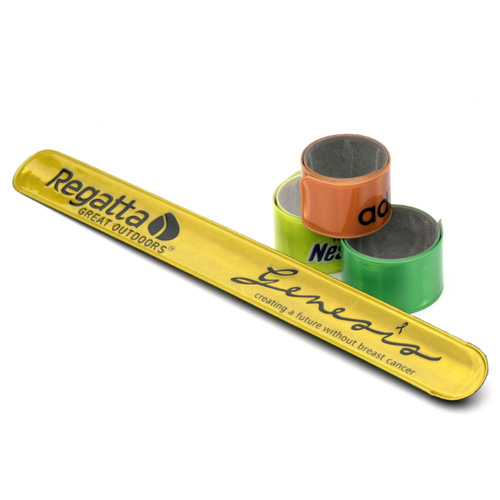 Reflective Slapper wristbands are the proven solution for customers wanting a highly visible promotional item where security is not their main concern.

Made from tough PVC and vinyl plastic Reflective Slappers are easily applied when lightly slapped around the wrist, arm or ankle and then allowing the band to wrap around on itself for a comfortable fit.

The glossy top surface can be custom printed with your own design, logo or message while the soft felt underside offers a high level of comfort.

Ideal for promotions and brand awareness they can also be used for fund raising campaigns and highlighting safety at night.

Available in a wide range of sizes and highly visible reflective colours.
&nbsp&nbsp&nbsp&nbsp&nbsp&nbsp&nbsp &gt&nbsp&nbsp Quick and easy to apply
&nbsp&nbsp&nbsp&nbsp&nbsp&nbsp&nbsp &gt&nbsp&nbsp Highly visible with large print area
&nbsp&nbsp&nbsp&nbsp&nbsp&nbsp&nbsp &gt&nbsp&nbsp Can apply to wrist, arm or ankle
&nbsp&nbsp&nbsp&nbsp&nbsp&nbsp&nbsp &gt&nbsp&nbsp Durable & waterproof
&nbsp&nbsp&nbsp&nbsp&nbsp&nbsp&nbsp &gt&nbsp&nbsp Can be pantone colour matched
&nbsp&nbsp&nbsp&nbsp&nbsp&nbsp&nbsp &gt&nbsp&nbsp Sizes: 3cm wide x 23cm, 28cm, 30cm, 34cm or 40cm long
&nbsp&nbsp&nbsp&nbsp&nbsp&nbsp&nbsp &gt&nbsp&nbsp Leadtime dependant on quantity and specific requirements
&nbsp&nbsp&nbsp&nbsp&nbsp&nbsp&nbsp &gt&nbsp&nbsp Minimum quantity: 500
Colour Choices:

View Colour Chart